Give your baby a SMART START IN life through the gym.
Our Smart Start Gym Program is designed for children as early as 4 months through 3 1/2 years. Research focused in music and movement development has been implemented into our curriculum to create the most learning possible out of their gym experience.
Our Parent-n-Tot and Motor Development classes are designed around weekly-themed lesson plans. These classes focus on developing hand/eye coordination, body awareness, listening skills, motor development, physical fitness, and more, in a FUN and SAFE environment.
Exploration and Exercise through Guided Discoveries!
Why SMART START gym class?
Both parent and child will participate in a kaleidoscope of exciting movement activities at A Kids Gym led by a trained instructor. With instructor directed and parent aided help, Your child will spend a fun-packed 45 minutes exploring various pieces of equipment. Bright colors, music, and a variety of themes will add to the fun for you and your young child. Plus, all the fun family entertainment value.
A playful parenting program is designed with new skill challenges, as well as hand-eye coordination, gross and loco motor skill acquisition, and socialization components. The fundamentals of gymnastics will be introduced to your toddler/preschooler in a fun family atmosphere.
Both parent and child will interact and learn basic tumbling skills and new exciting movement activities through the use of props, songs, and our specialized toddler gym equipment. Circle time, exploration time, and activity time will enhance hand-eye coordination, muscle control, and sight recognition. A Kids Gym helps you enjoy a one-to-one relationship with your child and share special time.
With parent, we climb, jump, balance, throw, and so much more. A wonderful experience for you and your child. Teachers take special care to show adults proper spotting techniques so tumbling can be practiced at home. Play with friends on our special toddler gym equipment all to a new theme activity each week!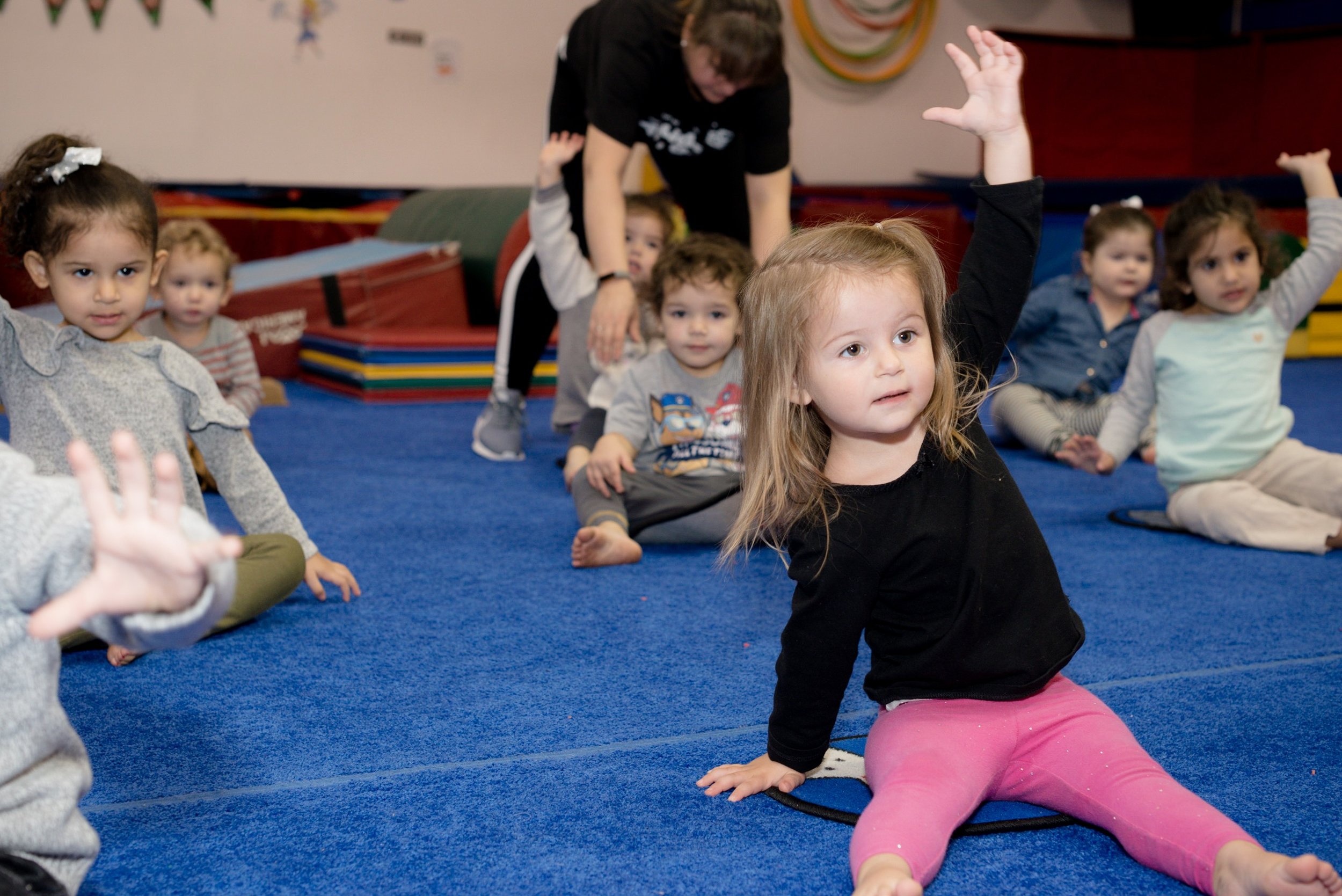 Puddle Jumpers | 2.5 - 3.5
SMART START GYm PROGRAM PErks!
Classes designed around weekly themed curriculum, fun and educational

Sign up for unlimited and get the "BEST" gym value around, come as many times a week as you want!

Come on your schedule, come to proper age class, any day

Big Gym and Little Gym equipment made Just For Kids

Children learn more through repetition and skill building

Join other parents and children for socializing - mat chat

Feel great helping your child learn - "how to learn"

Ask about Bring a Friend Referral Credit too!